My dad has a Samsung Smart TV (UE55H6400) which he uses mostly as a display device for his Sky+ box; the advanced features of the TV are a little beyond him.
Recently though, he's been asking for a way to play movies locally. When we met for lunch, I gave him an 8 GB USB flash drive with some films and later, over the phone, I walked him through selecting the USB device for playback using the Samsung TV remote.
This should have been straightforward – it certainly is on my older Samsung TV. But no dice – whatever we tried, his TV wouldn't recognize the flash drive. There are three USB ports, including one labelled "USB HDD" but it made no difference which one we used.
Perhaps I had accidentally formatted the flash drive using NTFS instead of FAT32? My mum, who is a lot more computer literate than my dad, plugged the flash drive into their PC and I examined it using Remote Desktop. Sure enough, it was formatted as NTFS. While the newest Samsungs can handle this fine, my Dad's model is a few years old so conceivably it was expecting FAT32.
Copying the movies to the PC, reformatting the drive, and copying them back again took about 20 minutes (cheap USB flash drives are SLOW). Ultimately, it made no difference – the TV still refused to recognize the drive. We gave it up as a bad job.
A week later, I was visiting and had a chance to try it myself – exactly the same results. At least user error wasn't to blame.
Eventually we figured it out – it's rather obscure! It seems that at least some models of Samsung TV decide whether or not a USB device is "hard drive"-like based on the precise way it is formatted. A single partition doesn't count; it needs to have a full partition table with multiple partitions for the TV to recognize it as a valid drive.
How do you format it like this? The easiest option is to use a special tool like RMPrepUSB – download the latest version from the list on the home page.
RMPrepUSB's initial options screen looks rather daunting: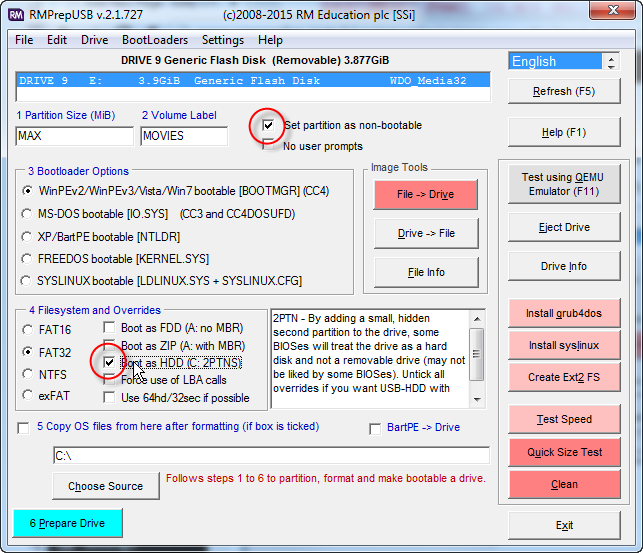 It's not too bad though if you just follow through the numbered sections:
Select your USB drive from the list at the top
In section 2, type a suitable Volume Label and set the partition as non-bootable
In section 4, select FAT32 and choose "Boot as HDD"
Click the Prepare Drive button at the bottom and off you go.
After a brief delay, you'll have a freshly formatted USB flash drive that is now recognized by your Samsung Smart TV. Copy movies, photos or music to it and have fun!
I should emphasise that this only seems to be necessary for some models of Samsung TV (and also, reportedly, LG TVs); it wasn't needed for my own model.
If RMPrepUSB seems a little too daunting, you could also try Rufus by Pete Batard of Akeo, only up the road in Co. Donegal. While I haven't had a chance to use it for this particular application yet, using the Advanced option "Add fixes for old BIOSes" option should have the same effect. Please let me know if it works for you!