I've just returned from the Consumer Electronics Show, which ran from January 8-11 in Las Vegas. This was my first time attending the largest trade show in America (2700 exhibitors, 150,000 attendees) and it was quite an experience. Over the next few days, I'll post entries about some of the more interesting products and companies I saw.
I was travelling with some colleagues, and we had four days to cover the exhibition – just as well, since it covers ten large convention halls, and conference space in several nearby hotels.
The scale of CES is hard to grasp – by lunchtime on the first day, we had cleared half of one hall and felt we were doing well – until we realised we had only cleared half of one corner of one hall!
It was time for a more aggressive approach. By planning ahead, and stepping up the pace substantially, we managed to cover about 90% of the exhibits during the first three days! This left Thursday morning for some final follow-up visits to stands, and we were all done by lunchtime, leaving the afternoon for some R&R.
The conference was well organised, with courtesy coaches between the different venues, free Internet access available in the halls (supplied by DivX), and even free international phone calls courtesy of Vonage, who had installed VoIP kiosks in the lobbies. Complimentary magazines from just about every consumer and electronics publisher you've ever heard of were also available outside the conference entrance, along with the six show guides and product directories.
While most of the halls were in the gargantuan Las Vegas Convention Center, one hall was in the Sands Expo Centre, about a mile away. (The Adult Entertainment Expo was taking place in an adjacent hall during the week, which led to an interesting mix of attendees in the areas outside the hall.)
General Trends
Two products were in evidence just about everywhere this year – large high-definition LCD televisions, and digital photo frames. Even manufacturers who didn't sell photo frames were using them to display information sheets for their actual products.
There was a wide and varied selection of Windows Media Centre PC cases from assorted vendors – perhaps the most impressive (if not the most practical) were the Diamond Media Centre range from Moneual, which featured a jewel-encrusted fascia panel and control knobs at prices ranging from $30,000 to $1,000,000, they are for elite purchasers only.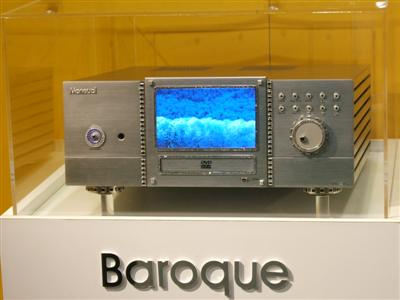 While most of the larger vendors had extravagant stands with large floor areas, there were plenty of smaller stands there as well. The entry level cost for a stand is in the region of $6000-$8000 depending on location (about 2 metres x 3 metres) which is within reach for even small startups.
There were surprisingly few freebies on offer. Other than the ubiquitous carrier bags, and a few trinkets like LCD pocket torches, watch batteries, and T-shirts, pickings were slim.
Apple steal some thunder
One of the biggest announcements didn't even happen at the show. Apple were running MacWorld in San Francisco during the same week, and launched their new and long-awaited iPhone, though it won't be available until June. While the industry was impressed with the product, there was plenty of scepticism about Apple's ability to break into the highly competitive cellphone market, especially with a product that costs $600! Time will tell…